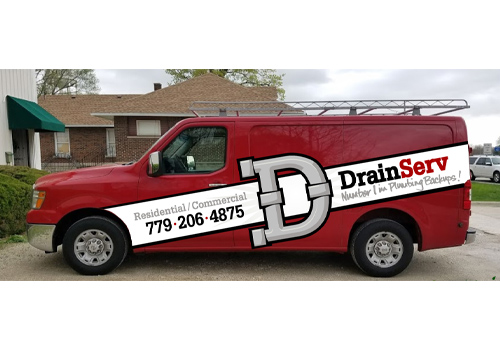 Drainserv has become one of the highest ranking companies power rodding in the Chicagoland area. We strive for the best, for our customers.
How Drain Cleaning Works
The snake is pushed into the drain from the sink, tub, toilet or other cleanout, until it reaches the clog. At that point, the crank is used to dislodge whatever is jammed into the pipe. The end of the auger will either push through the obstruction, tear it up with its twisting action, or become attached to it so it can be pulled up through the drain.
How Can Drainserv Help
If you're experiencing problems like recurring drain clogs or roots within your line, let us know and we can tell you the options you have to handle the situation. Drainserv has an array of drain machines that can satisfy any need you may have. Our technicians are trained extensively in operating each of the different machines with special attention paid to providing the quickest and most efficient solution to your problem. After all, we have been drain snaking Chicago homes for decades.
What sets us apart?
We know there are plenty of companies out there that claim they are professionals but we can back it up! A clogged drain can be a real hassle, but Drainserv has the solution. First, our professionals will open the line and review the problem at hand. Then we will use our company process to thoroughly clean any blockages. We use top of the line power rodding equipment that can get through the toughest of blockages! From sinks to main sewers We have been in the industry for over 15 yrs. taking care of  homeowners and saving them money!
Tree roots in your sewer?
Don't worry we have you covered! Drainserv uses specially design heads specifically made for roots, that will clean sewers better than any competitor guaranteed! This will result in longer duration of time between backups saving you time and money!
$195 Special!
Keeping the prices low without sacrificing service. Drainserv is now a running special on any residential Power rodding with an outside clean out! Clean-out must be accessible and special only applies to one line per home. Call Us  779-206-4875