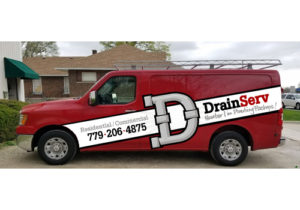 Drainserv Sewer Service
Many homes in the Joliet, IL region are susceptible to sewer back-ups. Sewer rodding Joliet, has become yearly regular maintenance for many homes. This is a result Clay tile sewers. Movement in the soil fractures the connections allowing tree roots to intrude. Therefore, restricting the flow of water. This is what causes frequent back-ups. Also, It is also important to have your sewer line camera. Foundation footing tiles could also be connected to the sewer. Therefore, a heavy downpour could result your basement to flood.
Having a certified service technician evaluate the problem and distinguishing the severity of the issue, your sewer can maintained care free. But what sets us apart from your "neighborhood plumbing company"? We have proved over and over our skill, service, and equipment can't be matched in the industry. We at Drainserv have built a reputation as local professionals with many years of experience through-out the entire region.
Tree roots Beware!
We use specially designed cutting heads to clean out tree roots from your sewers. With our experience and skill, in drain cleaning our competition doesn't stand a chance!
How to Deal with a Clogged toilet
When you have a Clogged toilet in your home, what is the first thing you do? If it's to reach for a sink plunger, you are on the right track. For some basic clogs, a plunger will clear out the blockage and let the drain go back to doing its job again. But if your first instinct is to find liquid drain cleaner, then you need to reconsider. These bottles of caustic chemicals are potentially hazardous for your plumbing, are acidic and toxic, and won't actually "clean" your drains in the real sense, but instead leave behind most of the debris that caused the problem in the first place.
What Should you do next?
So if that sink plunger won't re–open your drain, the next step is to contact professional plumbers to clean out the clog. At Drainserv we use a variety of tools to clean clogged drains, such as motorized drain augers, hydro–jetters and septic trucks. These tools will ensure a thoroughly cleansed drain without any damage done to the drainpipe.
Call use today  for sewer rodding Joliet or surrounding area's. Let us show you the Drainserv difference!